presents:


Julian the Juggler is now retired from
Circus activities...but Julian's music continues:

YouTube Soundcloud

Circus Clown, Birthday/Party Entertainer & Circus Skills Workshop Leader
for Schools, a Birthday Party, Carnival, Exhibition, Fair, Fete, Fun Day, Promotion or Company Event

30 years of Circus Fun, 1990 - 2020

Circus Skills Workshops
As an alternative to performing, Julian the Juggler can run a Circus Workshop!
This is an informal gathering where he supplies the Circus Workshop equipment and you try out and learn
many different Circus Skills. Julian the Juggler offers tuition, guidance and advice as required.
See a Circus Skills Workshop in the video below!
Turn up the sound to hear the Circus Skills Workshop music.
Watch this video on YouTube here!
Circus Skills Workshops for all ages (5 to 105!) ....and for all situations including:

Teambuilding with Circus Skills for your Company or Group.
Circus Skills Teambuilding for Teachers. Circus Skills Workshops for Parties.

See also:
"The Circus Olympics"

Circus Skills Workshops are great fun (and learning) for Schools, Colleges and Universities too.
Julian the Juggler also runs Circus Skills Workshops for children, young people and adults
with learning difficulties and/or disabilities.

A "Drop-In" Circus Skills Workshop is the best for Fetes, Fairs and Fun Days.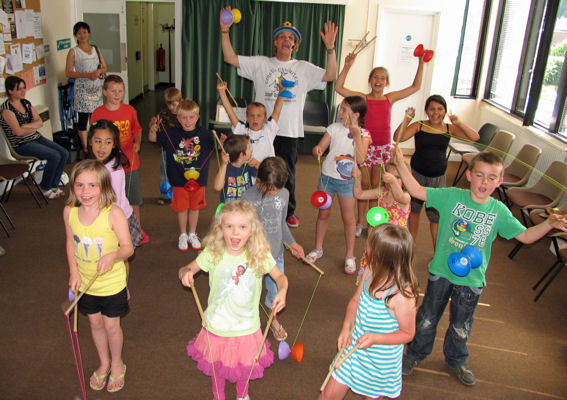 Circus Skills are not as easy as they look....and not as hard as you would imagine.
You can try Plate Spinning (and tricks with spinning plates),
Juggling (with scarves, balls, rings and clubs),
Diabolos (yo-yo's that leave their strings),
Devil Sticks (which hover in mid air)
and many other Circus Skills too.
Watch the video above.
Circus Skills Workshops are flexible to allow for different preferences and levels of ability and expertise.
Everyone learns Circus Skills at a different speed and in different ways.
You don't have to be a great performer to be good at (or have fun with) Circus Skills!
You can learn as much (or as little) as you want....and at your own pace.
The best Circus Skills Workshops are between 1 and 2 hours long.
Ideal Circus Skills Workshop group size is up to 30 participants.
Other formats are also possible depending on group size, space available and ages involved.
If your Circus Skills Workshop is indoors, skills will not be restricted by wind and rain!

Say what you need and we'll investigate the options together.
Circus Skills are great fun and can be dangerous. We want you to enjoy yourself ....and take care too.
Participation is always at your own risk. Julian the Juggler has full public liability insurance
and has been CRB checked. All Circus Skills equipment supplied remains the property of CIRCUS UNLIMITED!


presents:


...for Circus Skills Workshops
(Based in Hertfordshire, UK)