From Treble Clef To Unicycle
....An interview with Julian the Juggler in 2007

Philip Blackwell speaks to the founder of leading circus organisation, CIRCUS UNLIMITED! about his commitment to life as entertaining alter-ego, Julian the Juggler…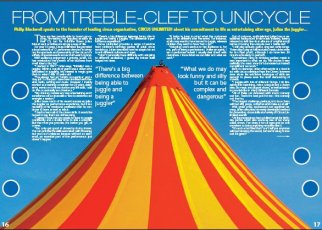 There are few people able to boast Unicycling, Fire-Eating and Juggling as skills on their CV, but for full-time clown Julian the Juggler such activities are simply a way of life. For over 15 years, CIRCUS UNLIMITED! has provided a local network of 12 performers devoted to bringing the spectacle and personality of the circus to a variety of special events across south-east England. With audience enjoyment a priority Julian has overlooked the growth of his business from small idea to big top.
"I started in 1991." Julian says, "Initially I was a juggler. Within a couple of years I was a clown who specialised in juggling. My interest in magic goes back to when I was 10 years old!
"I've always had an 'artistic occupation' and a 'day job'. In the past I have been involved with theatre, radio, writing and music. However, I mainly worked as a training consultant for 25 years, delivering events on communication and life skills. I still do this as a freelance. My training sessions/courses are very entertaining and I sometimes use a circus skill or two to reinforce and energise a session."
Julian bases much of his recent success as Julian the Juggler on performance experience, but it is a necessity of his newfound profession that he continues to learn as well as teach:
"I had to learn all of the clown skills. It would be honest to say that I am still learning. I guess it took me two weeks to learn to juggle confidently and a similar time to ride a unicycle. But the more you practise, the better you get, of course.
"You only get good at shows by doing shows. You can practise the skills associated with clowning but you can't rehearse because without an audience, an essential part of the performance just doesn't happen. There's a big difference between being able to juggle and being a juggler. The difference is performance experience."
CIRCUS UNLIMITED! provides a range of services from children's birthday parties to adult circus workshops. Julian describes how he adapts his act to suit different cultures and ages:
"I don't personally have difficulty with adapting to different audiences; I guess my trainer skills helped me there. It helps to keep in mind what the customers want to be different after the event. For instance, adults may want to have learned to juggle, whereas children may want to have 'had a go.'
"Adapting one's service to the audience is, for me, part of being a professional. Unlike some agents, I am a performer myself. I usually deal direct with customers. I know what we can offer and what we can't."
Out of costume, multi-talented Julian has an established background in the music industry, having released no less than four albums of original songs before choosing the unicycle over a treble clef:
"I still play acoustic guitar, sing and write songs. See here. These days I play at folk/acoustic music clubs more for fun than profit, although I do have two 30 minute acts ready to perform. Sometimes I sing at birthday parties and music is always very important in what we do. We choose it very carefully; the music shouldn't dominate but instead compliment our work."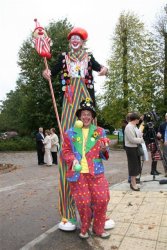 Back in character, Julian often works in a double act with circus colleague Pepe the Clown; however even alone his extensive catalogue of skills are enough to please even the most demanding of crowds.
"I juggle with lots of different things. I do fire-eating and breathing, ride a unicycle and a clown bike, do magic and puppet shows, as well as teaching workshops in many different formats. All of these are delivered with much comedy and fun. That's the best part for me – the comedy and the fun. The biggest challenge, perhaps, is to be a clown without any props, costumes and make-up at all!"
With great pride, excitement and apparent secrecy, Julian describes his newly developed method for presenting circus skills at a variety of CIRCUS UNLIMITED! events:
"At the moment we have a killer format for birthday parties which also works as one of our many arena shows. I've done it for all ages and no one anywhere is doing anything remotely like it. It's such a hot idea that I can't tell you anymore without blowing the secret, but we're using it now and it's great!"
In a profession where every obstacle is a potential spectacle, fire and danger have become pivotal elements in a successful performance for the majority of modern-day clowns. Julian the Juggler is no exception:
"Fire Eating seems to tickle peoples fancy the most. We've developed a new module for one of our acts called, 'The 60 Second Fire Feeding Frenzy'. How many flames can Julian eat in 60 seconds? With due ceremony, it makes an exciting and dangerous item from something that is already very popular."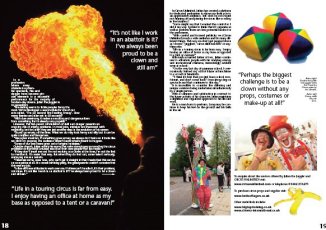 However, the fast-paced combination of skill and danger presents an ongoing risk of arising problems. In most jobs, mistakes are shadowed with negativity, but for Julian they are just another step in the evolution of his career:
"Stunts go wrong all the time. What we do may look funny and silly but it can be quite complex and dangerous. Like a jazz musician, if something goes wrong we always do it twice so it looks like we did it on purpose; the audience doesn't know what's meant to happen! Some of our best items grew out of original mistakes."
Outside of work, Julian admits his worry that naïve stereotypes surrounding the circus profession will prompt unusual reactions from new people that he meets:
"If they don't know me and I'm not working as a clown at the time, I'm not the first to mention it. It's easier that way. But when they do find out, some take it seriously; some peg me as a weirdo. There are some, even now, who can't get it straight in their heads that this can be an occupation at all. At a recent birthday party, the grandparents couldn't conceive that this was my day job.
"I allow all these attitudes to wash over me. If others can't handle it, it's their problem; not mine. It's not like I work in an abattoir is it? I've always been proud to be a clown and still am."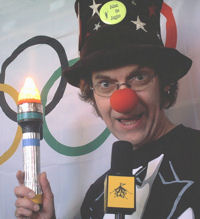 In CIRCUS UNLIMITED!, Julian has created a platform for dedicated performers to showcase their acts to an appreciative audience, but does he not regret not running off and joining the circus like so many in the business?
"Some might say that I wanted the control so I did it my way. I prefer to think that if I organise as well as perform there are less potential hassles for the performers.
"With careful and focused publicity we (CIRCUS UNLIMITED!) reach a wide audience and do many different things. This way we don't get pegged down as 'clowns', 'jugglers', 'circus skills teachers' or anything else. Life in a touring circus is far from easy. I enjoy having an office at home as my base as opposed to a tent or caravan!"
Although a married father of two, Julian continues to entertain people with his undying energy and motivational charisma, interestingly evident even at school: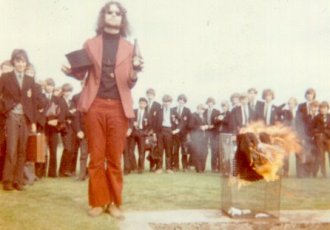 7 July 1972
"On the very last day of grammar school, I ceremoniously burned my school blazer at lunchtime to a crowd of hundreds. ('I think it's best that you just leave school now, Julian, and don't come back!') I was always big on spectacle and that continues to this day."
It is incredible to consider the differing and unique ventures being undertaken simultaneously by a single person. With a calmness and satisfaction in contrast to the hyper-activity of his character, Julian maintains a dignified and organised approach to his life and work.
He is a man born to perform. Long may he continue to keep his feet on the ground and his balls in the air.
Philip Blackwell is a second-year BA (Hons) Journalism student at Middlesex University. This interview was part of a project to produce a 'Pioneer' Magazine focussing on relatively unknown and misunderstood cultures, situations and ways of life.